EGM specializes in providing Engineering Services, Glass Services and Program Management/ Construction Management Services for municipal, commercial, educational, and governmental clients.
Assisting our clients manage their multi-year design projects, construction projects (including glass & glazing) and water and wastewater system improvements and related construction programs is our prime objective.
EGM can execute a project from inception of the idea through project close-out and final review; commencing with the planning,pre-design and design, and continuing with aggressive management techniques during solicitation,bid award, construction, move-in and completion of post construction activities.
For every project, EGM utilizes each opportunity to control the cost and minimize the construction schedule while consistently providing a quality project.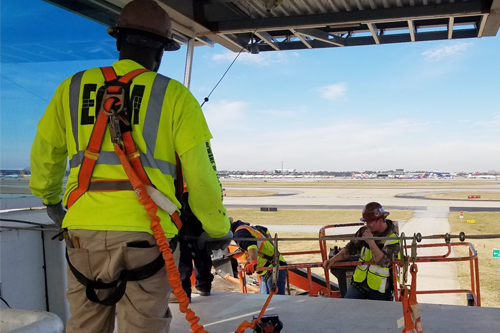 Founded in 1986, as Ebony Glass & Mirror Company (a Georgia corporation), minority owned and operated-based in Decatur, Georgia, was formed with the vision to establish a commercial glass and glazing firm that would grow to be one of the finest companies in the glass industry. Over the years, Ebony Glass & Mirror (EGM) has grown into a company which is respected throughout the industry for quality work with professional delivery. This growth and progress is attributed to the support of highly skilled glaziers and loyal, dedicated, competent personnel.
In the mid 1990s, EGM expanded its horizons to become a general contractor/construction manager,under a mentor-protégé program.During this era, EGM became a graduate of the 8-A minority participation program. It was also during this time in which numerous corporations, municipalities, and counties throughout the Eastern United States certified EGM as an MBE. Some of the projects completed during this period of GC/CM experience are:
Adamsville Recreation Center
Hartsfield Jackson Air Cargo
Concourse "E"Four Gate Expansion
Technical Support Campus
As EGM moved into the 21st century,there came an opportunity to further diversify; and we did. EGM has diversified into engineering services, sewer engineering and sanitary sewer evaluation services. We have partnered with several respected and notable companies and established key relationships in the water and sewer industry. On November 26, 2008 we became, EGM Services, Inc.
A personal and professional commitment to proactively protecting the well-being of our employees, our contractors, our customers and the people of the communities in which we operate.
Alabama Department of Trans. (DBE)
Business License (DeKalb County)
City of Atlanta (AABE & SBE)
DeKalb County Department of Pur. & Contr. (LSBE)
Florida Department of Trans. (DBE)
Fulton County Department of Pur. & Contr. (M/FBE)
Georgia Department of Trans. (DBE)
Maryland Department of Trans. (DBE)
Missouri Department of Trans. (DBE)
National Assoc. of Minority Contractors
North Carolina HUB
Tennessee Department of Trans. (DBE)